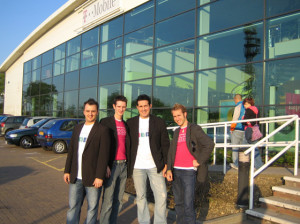 The fab four, close up magicians Keelan, Nick, Rich and Matt have just come back from performing a mammoth tour for mobile phone company T-Mobile.  They created bespoke smart phone mobile magic for the events, which included pulling a new T-Mobile phones out of a video screen.  We will post video of this soon.
The magic men toured up and down the country, showing off their branded T-Mobile Close up Magic to the hundreds of T-Mobile employees up and down the country, delivering key company messages about the launch of a new phone tariff.  The staff were not only entertained, amazed and amused they were also informed for the launch and changes in a very fun and memorable way.  This tour certainly showed that magic can be a very useful tool to deliver an important message.
Close up magician's are a useful tool for delivering a message in memorable way. If you have a product that needs launching or a message you need to get over to your staff in a fun way then look no further then booking a close up magician. Call us to discuss your event.